I've been doing some smiling and dialing recently and thought I'd share some free resources to find corporate phone numbers. I'm listing these in the order of how I approach finding one. The hierarchy of this list is determined by a combination of accuracy and speed.
1. Company Website
I'll spare you a proverbial explanation. Many company sites contain the corporate phone number on the "Contact Us" or "About Us" page.
Note* it's important to understand that many phone numbers on company sites are customer service numbers instead of corporate office numbers. Make sure the number explicitly reads as "Corporate Office" or "Headquarters".
2. ECorporateOffices.com
ECorporateOffices.com has pretty accurate phone numbers. Their data set isn't as robust as some other sources, but you can search it very quickly. I'm also partial to it because it doesn't look like it was built in 1989.
3. Jigsaw.com / Data.com
You don't even need credits on Jigsaw to find corporate phone numbers.
Simply type in your target company's name into the search box. Select the company you wish to contact and you should see the corporate phone number.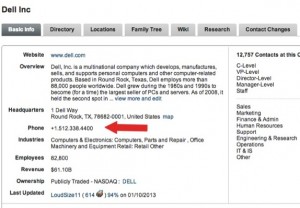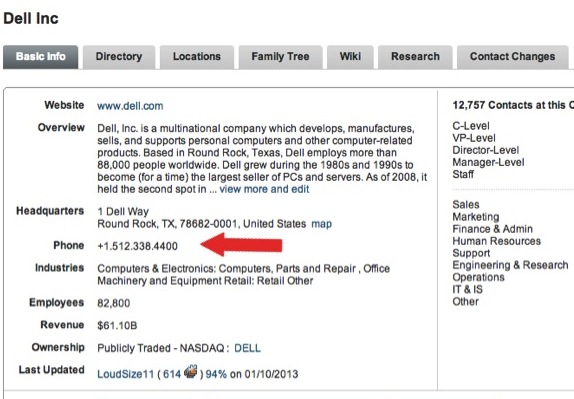 These aren't always accurate, but most of the time they are.
4. Determine Corporate Location + YP.com
If you can determine the geographic location of the corporate headquarters, you can use a regular listings site like YP.com to find a corporate phone number. Jigsaw, Wikipedia and LinkedIn are all excellent places to determine where the corporate mothership docks.
When you search on a YellowPages site make sure to include the appropriate entity name – i.e. [Brand Name] Headerquarters, International, Worldwide etc.
5. EmailsForCorporations
EmailsForCorporations is an awesome resource that my buddy Derek Flanzreich showed me. It's a repository of corporate phone numbers and email syntaxes. Though the data set is not incredibly robust, it's highly accurate.
6. Call A Retail Location
If you're still having trouble, you can always call a retail location and ask for the corporate number. This works.
7. Find A Press Release
Press releases almost always contain a generic corporate or direct phone number. In order to quickly isolate press releases, take advantage of google search operators.
i.e. searching "GoDaddy Release filtetype:pdf site:godaddy.com" will render a bunch of press releases.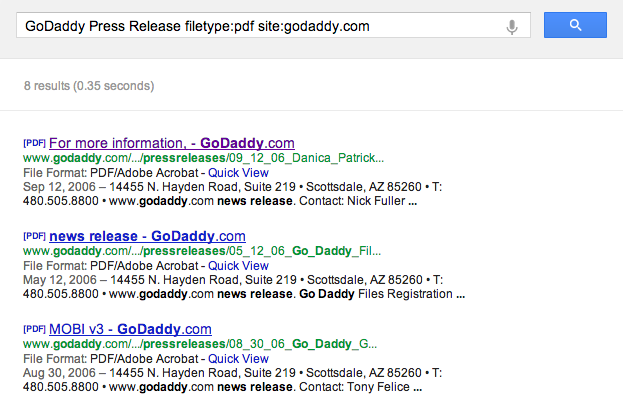 Note* because press releases often contain email addresses, this is a great way to determine a corporation's email syntax as well.
8. Register.com (for smaller sites)
If you're trying to get the phone number of someone who runs a smaller site, register.com can be an excellent resource. Simply do a reverse "Who Is" lookup and see if the domain owner's information is public.
If you enjoyed this post, you might also like my post on How to Find Anyone's Email Address.
In my next post, I'm going to describe a business development mistake I recently made that might have cost me a big opportunity. Make sure not miss how to avoid it by subscribing here.
Join 19,746 Subscribers