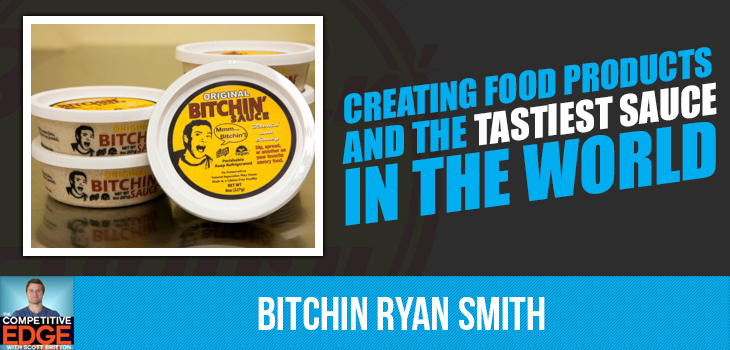 Click here to get exclusive access to this conversation on Itunes
This is bar none, the most Bitchin' episode of this podcast.
Most Saturdays while I was living in San Diego, I'd go to the farmers market in little Italy where I live.
During my first visit, I remember seeing these guys at their stand and they looked like they were having the time of their lives.
Their product was called Bitchin' Sauce, people were flocking around their booth and the entire team was rocking tank tops….naturally I had to go and see what this was all about.
I tried a sample of their Bitchin' sauce and it blew my mind…and now I've developed what is commonly known as a Bitchin' addition. Literally Every Saturday I go and stock up on their sauce for the week and say hi to the guys.
Today I am so fired up to have one of the co-founders of Bitchin' Sauce Ryan Smith on the show. Ryan is one of these guys who every time you see, it's pretty easy to light up with joy.
I wanted to bring him on the show to learn more about what he calls The Bitchin' Lifestyle as well as how you go from having a recipe or food idea to selling in stores across the country like Whole Foods.
I love this episode for so many reasons, but one thing I think is particularly awesome is how Ryan and his siblings only had a few hundred bucks when they started this business.
If you've ever said I don't have enough money to start a business you're going to want to tune into this episode because the story of Bitchin' sauce obliterates this excuse.
Ready to learn more about creating food products and the most Bitchin' Sauce in the world? It's time to get saucy with Ryan Smith.
What You'll Learn By Listening
What the most Bitchin' Sauce on earth actually is
Paleo friendly and delicious…say wha?
How Ryan, Porter, and Starr started the business with just $200 (warning Mannie cameo)
Where the name Bitchin'' Sauce came from
The first steps anyone should take who is selling a food product
How team Bitchin' first got their product in stores and eventually whole foods
Plenty of other stories and anecdotes people who are thinking about a food business should be aware of
Don't miss out on all the strategies we'll be sharing in the future. Subscribe below to get access to future episodes.
For more on the sauce check out Bitchin' Sauce and Twitter @BitchinSauce.
Questions On This Bitchin interview?
Leave your questions and responses to this Ryan Smith interview in the comments section below:
Don't Forget to Leave a Rating in iTunes. It helps more people find our show.
**Music Credit: Carousel Games & Stay Awake
Get My Most Advanced Business and Mindset Strategies